Television Commercials
TV Commercial Script & Coordination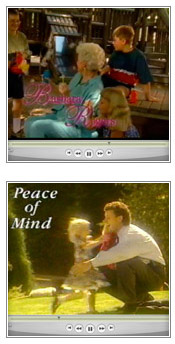 There's no question about it, television advertising provides agents with credibility, reach, and exposure-and consequently, increased potential business-that few advertising mediums can match. With cable programming, it is surprisingly inexpensive. Hobbs/Herder can help you tap into this potent medium.
You'll Be A Personal Marketing Star
Imagine a high-quality, professional television commercial-not static, still shots sandwiched between countless home photos on a local real estate channel, but bigger than life on CNN, ESPN, A&E, Lifetime, Nick-At-Nite and The Discovery Channel, to name a few.
"One of my most powerful marketing tools has been the television commercial Hobbs/Herder developed for me. They developed a powerful concept, then crafted a script I took to my local station. They mapped out a clear vision of the commercial, reviewed the raw footage and made invaluable suggestions and comments. The final product has enhanced my image in the community and continues to be an incredible source of quality leads."

—Ron Kubek Victoria, Canada
Hobbs/Herder Advertising will create a custom television commercial for you. You will work with a specially trained member of our staff who will develop an exciting and carefully-thought out concept and create a dynamic 30-second script tailored specifically to you. You will receive a shooting script/storyboard you can take to your local production company or the cable company's production department. We'll consult with you, review footage and make recommendations to ensure you get a high-quality production that enhances your image in the marketplace and generates new business.