Real Estate Special Reports
Hobbs/Herder Advertising has created 5 Direct Response Special Reports for you to use in your personal marketing program. These customizable reports are accessible to the attendees of the Marketing Mastery Event. They can be offered in both print and web-based form. Below each title of each report is a small description you can use when advertising the special report. These items are a must-have for any real estate professional looking to maximize their lead-generating options. To view the whole list of available reports, click here.
"From my first mailing, more than five referrals came in as a direct result of my friends receiving and sharing the special reports I customized with my personal logo and picture."

—Connie Roberts, Scottsdale, AZ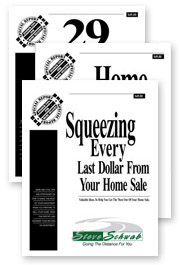 Home Buyers: How to Avoid Paying Too Much
When it comes time to purchase a home, you need to have the right information at your fingertips. This report outlines what you should know before, during and after you make that next home purchase.
Home Sellers: 29 Essential Tips to Getting Your Home Sold Fast (And For Top Dollar!)
Your time is precious and important to you. This report outlines useful tips on how to speed up the selling process, giving you back the time you need for your family or anything else you deem important.
7 Insider Secrets On Showcasing Your Home For a Successful Sale
Want to give your home the "wow" factor? These proven tools make your property the one that buyers remember—and want as their own.
The Truth About Advertising
Real estate agents tell you advertising is for your benefit. Find out who's really benefiting from their ads and how to select the right real estate professional for your needs.
Home Sellers: 29 Critical Questions to Ask a Realtor Before You List
Before you sign on the dotted line, make sure you know what you're going to commit to when signing with a real estate professional. This report will give you an idea of what you should know before meeting with your selected professional.