Custom Ad Campaigns
So many agents across the nation come to Hobbs/Herder Advertising, frustrated with the same common problem-they're tired of having to divert precious time from an already tapped schedule while they throw together last-minute ads to place in their area publications. Too many agents spend thousands of dollars on ad space and virtually nothing on developing ads that pull results-and then they wonder why their advertising doesn't work.
"My Hobbs/Herder ad campaign has brought me lots of attention, people stop me on the street to comment on them. Because my ads got talked about, I enjoyed greater name recognition in my area, resulting in more listing appointments and an increase in my production."

—John Riggins, Honolulu, HI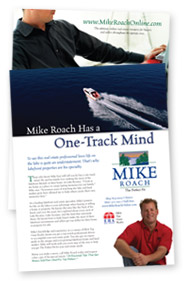 A Marketing Strategy Few Agents Can Compete Against
Hobbs/Herder has the answer to this dilemma: A powerful, custom ad campaign designed just for you. Stop wasting time and money! Stop running ineffective ads. Turn to the experts: Hobbs/Herder Advertising. You will work with a specially trained creative representative to develop an advertising message that captures the imagination of your target marketplace. When you purchase either of the ad campaign packages listed below, you will receive three or six custom ads designed in two sizes (for different publications /applications). In addition, you will receive a media placement plan and 10 hours consultation time to discuss your placement strategy and to determine how to maximize your campaign with existing materials.